At most recent count there were 112 yellow vehicles (buses and vans) in the yard. All of the big buses are internationals. A lot are Thomas, some are Bluebirds, some Waynes and a Ward or two.
Fall 2007 Update: Now a second yard in Bedford. So ignore the above numbers. It's alot more now.

342


I learned on this bus. :-)

342


This is where I normally tell you what the bus make/model is etc. But you probably already know.

342 is a 1994 Thomas International in case you were wondering, I just felt repetitive typing it in. I do remember the GVWR: 28,080 lbs.

356


90's Thomas international

360


2001 Thomas International.
CT #373
1999 Bluebird international at HGHS. My Baby.
Chappaqua Bus #325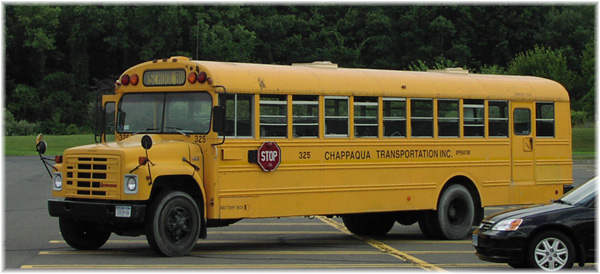 1988 Carpenter International. This bus gets parked in the Fishkill yard.
More Chappaqua Transportation Buses